Wednesday 26th June saw us at The Harlequin Redhill for a performance by the Freewheelers.
"Freewheelers Theatre and Media is a charity comprising a group of highly skilled professional artists and volunteers who work closely with people who love theatre, but just happen to be disabled,  Together we find ways to express ourselves in theatre, film, dance and music.  Our disabled performers, (as well as technicians and film-makers) have the opportunity to show the public just what they can do.  We aim to change perceptions of disability".
The intention of the evening was to show a wide range of their work, to enable the groups themselves to see what other members are doing, and to give the audience a chance to ask questions and talk to the performers at the end.
http://www.freewheelerstheatre.co.uk
What a performance it turned out to be! It was inspirational, imaginative, highly skilled, full of humour and very moving. The creative use of film and live performance was quite stunning and the enthusiastic audience reaction at the end of the show showed what they thought of it.
After the performance, Robert Bogin our Club President presented Freewheelers with a cheque for £1188 towards the cost of putting on the show .
Letter given with the donation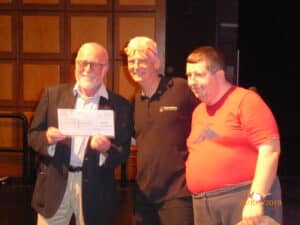 Freewheelers Donation letter – 26.06.19