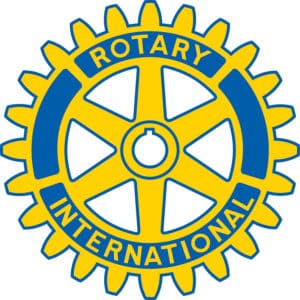 Rotary is a worldwide volunteer organization of more than 1.2 million business, professional and community leaders. The 34,000 Rotary clubs in nearly every country in the world share a dedication to the ideal of vision of a better world.
The purpose of Rotary is to improve COMMUNITIES through a range of humanitarian, intercultural and educational activities. Clubs advance international understanding by partnering with clubs in other countries. Rotary also encourages high ethical standards in all vocations – in the community, in the workplace, and around the globe.
Each club strives to reflect the DIVERSITY of its community in its mix of professions, genders, ages and ethnicities. This ensures that a wide variety of EXPERTISE is available for club projects.
Rotary clubs address critical issues at home and abroad by providing health care and medical supplies, clean water, food, job training, youth development, and education to millions of people in need.
Rotary clubs are open to people of all cultures and ethnicities and are not affiliated with any political or religious organizations.
Object of Rotary
As signified by the motto Service Above Self, Rotary's main objective is service — in the community, in the workplace, and throughout the world. The Rotary Foundation helps Rotarians put Service Above Self worldwide. The Foundation's main program is to eradicate polio. The Object of Rotary is to encourage and foster the ideal of service as a basis of worthy enterprise and, in particular, to encourage and foster:
1. The development of acquaintance as an opportunity for service.
2. High ethical standards in business and professions, the recognition of the worthiness of all useful occupations, and the dignifying of each Rotarian\'s occupation as an opportunity to serve society.
3. The application of the ideal of service in each Rotarian\'s personal, business, and community life.
4. The advancement of international understanding, goodwill, and peace through a world fellowship of business and professional persons united in the ideal of service.
World Peace and International Education
PEACE
In an effort to educate tomorrow's peacemakers and ambassadors, up to 110 Rotary World Peace Fellows are sponsored each year to study at one of the eight universities for International Studies in peace and conflict resolution. Since 2002, 431 fellows from over 75 countries have participated at a cost of more than $23 million.
INTERNATIONAL EDUCATION
Rotary is the world's largest privately-funded source of international scholarships. Each year, about 1,000 university students receive Rotary scholarships to study abroad. Rotary clubs also coordinate a high schoolage student exchange program that has sent nearly 8,000 students abroad for three months to a year.
Rotary's role in Polio eradication
Rotary International's End Polio Now initiative protects children around the world with Polio vaccines to globally eradicate Polio forever. Rotary launched PolioPlus, the first and largest internationally coordinated private-sector support of a public health initiative, to fund the operational, social mobilization and training efforts required to eradicate polio. www.endpolio.org/ Here is Rotary's involvement in polio eradication in brief:
1979 – Rotary clubs take on a project to buy and help deliver polio vaccine to more than six million children in the Philippines.
1985 – Rotary International launches PolioPlus, the first and largest internationally coordinated private-sector support of a public health initiative, to fund the operational, social mobilization, and training efforts required to eradicate polio.
1988 – The World Health Assembly passes a resolution to eradicate polio, setting up the launch of the Global Polio Eradication Initiative. More than 125 countries are polio-endemic.
1995 – Rotarians, health workers and volunteers immunize 165 million children in China and India in a single week.
1996 – The number of nations declared polio-free increases to 150. The reported incidence of polio is 85 percent less than in 1988.
2000 – A record 550 million children – almost one-tenth of the world's population – receive the oral polio vaccine. The Western Pacific region, spanning from Australia to China, is declared polio-free.
2004 – In Africa, synchronized National Immunization Days in 23 countries target 80 million children, the largest coordinated polio immunization effort on the continent.
2006 – The number of polio-endemic countries drops to four (Afghanistan, India, Nigeria, Pakistan), the lowest in human history at the time.
2009 – The Bill & Melinda Gates Foundation pledges US$355 million and issues Rotary a challenge grant of US$200 million in support of the Global Polio Eradication Initiative.
2012 – India is no longer polio endemic
History of Rotary – Timeline
1905 – Chicago attorney Paul P. Harris convenes the first Rotary meeting on 23 February in Room 711 of the Unity Building in Chicago. Harris envisions a professional club that brings together men from a variety of vocations. Gustavus Loehr, Hiram Shorey, and Silvester Schiele attend. The meeting sets the groundwork for the world's first service club: the Rotary Club of Chicago.
1910 – The National Association of Rotary Clubs of America holds its first convention in Chicago at the Congress Hotel, 15-17 August. Sixty registrants attend. Rotarians elect founder Paul Harris president of the association. Rotary comprises 16 clubs with over 1,000 members throughout the United States.
1914 – Rotary clubs in Great Britain and Ireland form the British Association of Rotary Clubs. R.W. Pentland is their first president. At the international convention, Rotary recognizes the British association of 1,128 members as a legitimate extension.
1917 – Creation of The Rotary Foundation, a not-for-profit philanthropic corporation that supports Rotary International.
1922 – Rotary International becomes the official name of Rotary. The name is approved as part of the new constitution and bylaws adopted at the international convention.
1940 – World War II tests Rotary's hope for peace. Rotarians establish the Rotary Relief Fund to help war victims. They also draft a resolution calling for "respect for human rights," setting the stage for Rotary's prominent role in promoting world peace.
1943 – Rotary International officially adopts The Four-Way Test, one of the world's most widely printed and quoted statements of business ethics. Herbert J. Taylor, a member of the Rotary Club of Chicago who would later become the 1954-55 RI president, drafts the 24-word test in 1932 to help an aluminum company on the verge of bankruptcy after the Great Depression.
1945 – A group of 49 Rotarians help draft the United Nations Charter. Rotary International is granted adviser status at the UN Charter Conference. Rotarians provide translation and dispute-resolution services to attendees. Rotary's early involvement with the UN sets the stage for future partnerships with UN agencies.
1955 – Rotary celebrates its golden anniversary with 8,500 clubs in 89 countries. The RI Convention is held in Chicago. U.S. Vice President Richard Nixon is a guest speaker. Rotary International produces the Rotary Golden Theater Radio Show in honor of the anniversary.
1965 – The Rotary Foundation creates Group Study Exchange, a cultural and vocational exchange program for young businesspeople and professionals. The first 34 teams, from Australia, Great Britain, Japan, and the United States, go abroad. The Foundation also initiates the Matching Grants program to support international service projects, ushering in a new era of global service.
1970 – The Council on Legislation, created in 1934, becomes the official law-making body of Rotary. Clubs gain a voice in Rotary governance by submitting legislation to the Council. Each district sends a representative to the Council to review and vote on proposed legislation.
1972 – Rotary Youth Exchange becomes an official RI program after more than 40 years of club-organized international youth exchanges.
1985 – Rotary International launches PolioPlus, the first and largest internationally coordinated private-sector support of a public health initiative, to fund the operational, social mobilization, and training efforts required to eradicate polio.
1987 – Women join Rotary. On 4 May, the U.S. Supreme Court rules that Rotary International may not exclude women from membership based on gender. The club that started the legal battle, the Rotary Club of Duarte, California, is reinstated after its termination in 1978 for admitting women. In 1989, the Council on Legislation votes to eliminate the requirement that club membership be limited to males, permitting clubs worldwide to admit women.
1999 – Rotary establishes the Rotary Centers for International Studies in peace and conflict resolution to help prepare future leaders and diplomats. The program offers coursework in international relations, public administration, sustainable development, peace studies, and conflict resolution at several partner universities throughout the world. www.facebook.com/Rotarycenters
2002 – Europe is declared polio-free at the RI Convention in Barcelona, Spain. By the end of the year, only seven countries remain polio-endemic. Rotary announces a new US$80 million campaign to support polio eradication. Rotarians respond by raising over $129 million.
2006 – Only four countries remain polio-endemic: Afghanistan, India, Nigeria, and Pakistan. Polio cases worldwide have dropped by 99 percent since 1985.
2007 – The Rotary Foundation celebrates the millionth Paul Harris Fellow by recognizing 34 individuals – one from each Rotary zone. The donors receive plaques and certificates honoring their contributions.
2008 – Rotary officially launches its effort to match a US$100 million challenge grant from the Bill & Melinda Gates Foundation to help eradicate polio. In 2009, Rotary receives another grant of $255 million from the Gates Foundation and launches Rotary's US$200 Million Challenge to match a portion of the grants and further support efforts to End Polio Now. http://www.youtube.com/v/tH1vPTVGHOk
2012 – India is no longer polio endemic