On the weekend of 24th-25th June we hosted our French Twin Club Comines. Seven came over from  France and were hosted by Club Members.
On Friday 23rd evening, Peter & Jean Mason hosted at their house and provided excellent, food, drink and weather which was a wonderful introduction to the weekend.
Early Saturday morning we travelled to Arundel and toured the very impressive castle dating from around 1070
After this we enjoyed an excellent buffet at the St Mary's Gate Inn and it was noted that the French preferred the English ale to wine – maybe the hot weather had some influence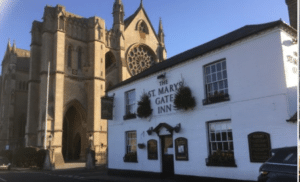 After touring Arundel Town we headed back home and 20 of us met at The Joshua Tree in Earlswood for a high quality traditional pub meal. President Sally gave her welcome speech in French and at the end of the meal President Gilles Fournier thanked us for the welcome and the events of the weekend. Club members were presented with a Comines beer (6.5 abv) called Alys – named after a fictional town mascot.
On Sunday morning we drove to Tenterden and caught the steam train to Bodiam and back on the Kent and East Sussex Railway.
We learnt about the history of the railway built on land that was once part of the sea and will eventually return to that state. At Bodiam was the Cavell Van used to repatriate the body of the heroic Edith Cavell who was unjustly executed as a spy in the First World War. You can watch a video about this here Cavel Van at Bodiam

Finally after the rail journey we had a superb roast lunch at the Vine Inn in Tenterden. the French all enjoyed the "rosbif" although two chose fish and chips.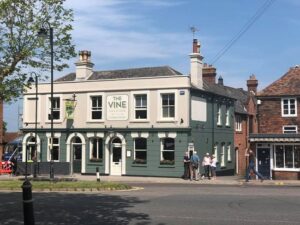 At around 4.30 we set our guests en route to Dover and concluded a very enjoyable weekend with our friends from over the Channel. We all were left with the feeling that the Twinning link must continue.