In May, 14 members of the Club visited Comines for the annual Twinning weekend. They were Robert & Anne Bogin, Bob & Bryony Bowen, Paul & Yvonne Dyer, Nick & Wendy Fieldhouse, Reg Foster & Adele Fielding, Phil & Rosemary Jones, Graham & Janet Powell.
The weekend started with a meal en route at the fabulous Le Channel restaurant in Calais, well beloved by veteran cross channel visitors.
http://www.restaurant-lechannel.com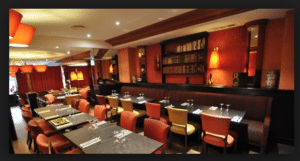 After a sumptuous meal, we proceeded to Comines where we met our hosts for the weekend. In the evening we were entertained generally in fours at one of the hosts' homes and enjoyed great food, much wine and lively discussion about the impending referendum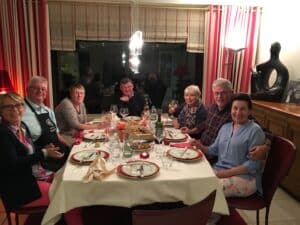 Picture shows Graham & Janet, plus Anne with hosts Serge and Marta, Jean Claude and Odile
Next day we all travelled to Gent (known as Gand by the French) in Belgium. Some problems were encountered arriving at the meeting place due to satnav disorder but eventually we all met up. We visited the Belfry of Gent with its magnificent bell tower and bells dating back to the 14th century. After this we strolled around the medieval town and eventually met up in a local restaurant for lunch.
We then visited Gravensteen, a magnificent castle built in 1180. Exhibits such as Madame la Guillotine were on view.
We returned to Comines and met up for a meal at La Bonne Franquette which is a private restaurant belonging to a catering organisation. The English Cup Final result was announced during the meal.
Next day, we visited the LAM Museum (Modern Art) in Villeneuve d'Ascq to see an exhibition of paintings and sculptures by Modigliani. This was very interesting as most had little knowledge of this controversial and clearly highly talented artist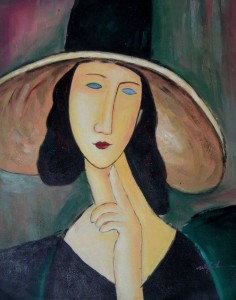 Finally, we enjoyed a fine lunch at Le Marmite de Pierrot in Capinghem. This is owned by a famous TV chef who was originally a member of the Comines Rotary Club. The meal was superb with local specialities including bread and dripping.
Finally, very bloated but satisfied, we said goodbye to our hosts and made our way home after an excellent weekend.