Our Club has supported Dictionaries for Life over many years and currently supplies 350 dictionaries each year to primary school leavers from 5 local schools.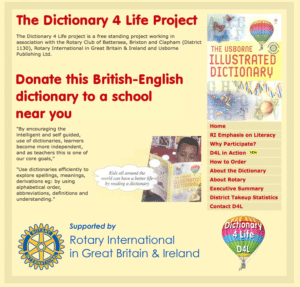 The Usborne Illustrated Dictionary 4 Life comprises 1,000 illustrations, 10,000 entries and 20,000 definitions printed in full colour on leaflet grade paper from a sustainable forest and contains 288 pages.
By using dictionaries efficiently children explore spellings, meanings and derivations for example by using alphabetical order, abbreviations and definitions with understanding. One of the most positive aspects of being able to use a dictionary is that it helps to develop autonomy and confidence in the learner — one of the core goals of education. It promotes books and the printed word. It will be a "possession" for the child. It will enable both first and second language users to extend and improve the accuracy of their vocabulary. It should help children with their homework in secondary education. In some homes it may also form a reference work for all the family.