DUE TO THE UNCERTAINTIES CAUSED BY THE CORONAVIRUS, THIS EVENT HAS BEEN POSTPONED UNTIL FURTHER NOTICE
Following last year's successful event and by popular demand, we are running the Celebration of Africa event at St Mark's Hall Reigate on 21st March 2020.
For tickets:
Click following link: Ticket Purchase
or email: info@redhillredstonerotary.org
or phone Maureen Mwagale 07778-532675 or Nick Fieldhouse 07887-713250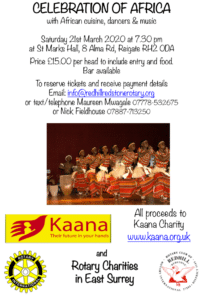 CELEBRATION OF AFRICA
This was an unqualified success with around 110 people enjoying superb African cuisine plus singing and spectacular dancing. A substantial summ was raised through ticket sales, bar, raffle and an auction.

Special thanks to Maureen Mwagale for organising the whole evening, Richard Cawtheray and Phil Jones for dealing with ticket sales and the money and last but not least Roger Misson and his assistant Clive for the well stocked and well run bar.
celebrationofafrica.mp4